14 / Sep / 2022
Babybed opmaken: zo doe je het veilig!
De babykamer is ingericht, de lakens zijn gewassen en je staat te trappelen om het babybedje op te maken. Hoe zorg je dat jouw kleintje niet alleen rustig, maar ook veilig slaapt? Let bij het opmaken van het bedje op de volgende punten.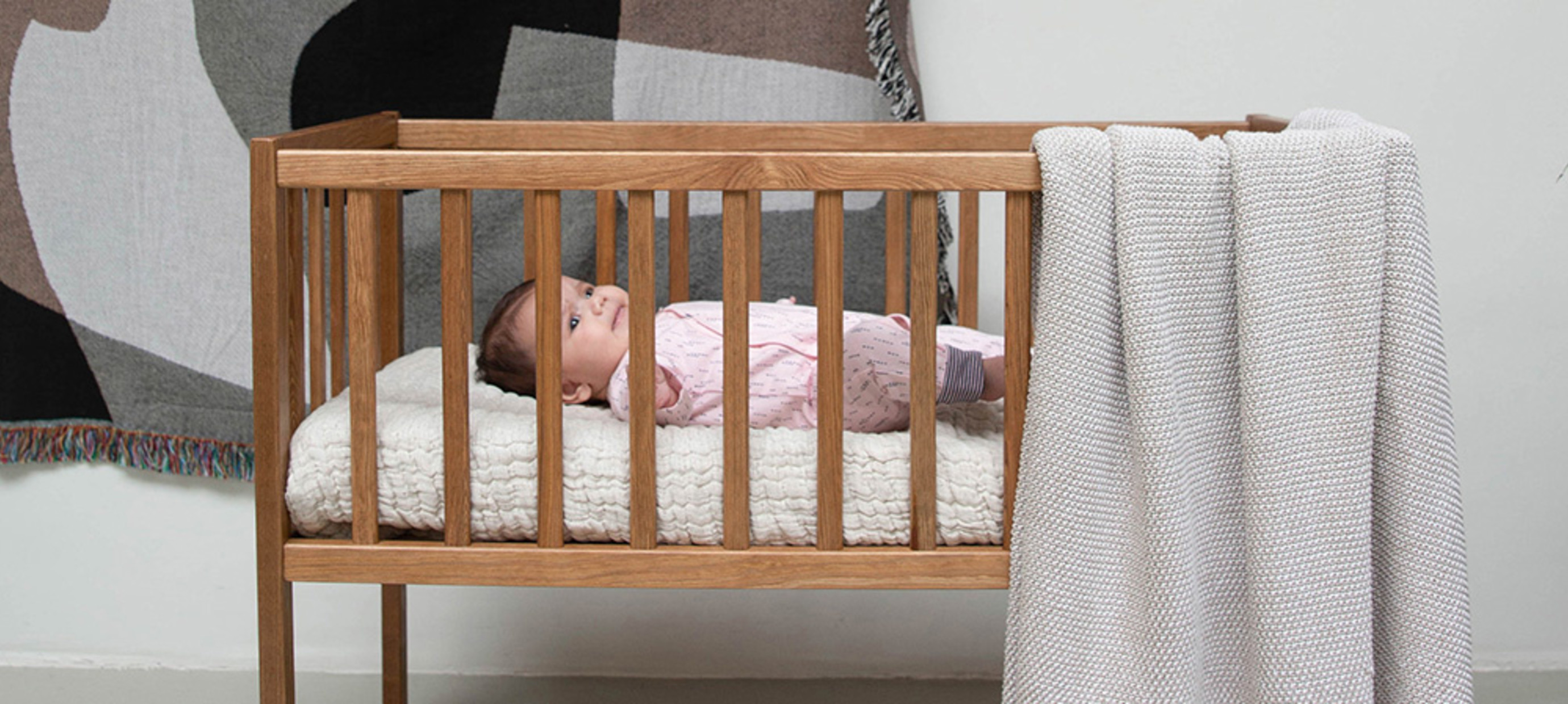 Kort opmaken
Het is belangrijk dat je kleintje straks knus en veilig kan slapen voor een goede (nacht)rust en zodoende goed kan groeien. Mooie decoratie is natuurlijk ook heel leuk, maar het allerbelangrijkste is dat je kleintje veilig slaapt. Daarom is het belangrijk om te weten dat het babybed, ledikant of wieg verkort wordt opgemaakt.
Je baby moet met zijn voeten bijna tegen het einde aan liggen om veilig te slapen. Dit om te voorkomen dat je baby naar beneden schuift en met zijn hoofd onder de lakens glipt. Het advies is om zo min mogelijk accessoires, zoals knuffels en ander speelgoed in bed te leggen.

Juiste matras
Zonder fijne matras, geen goede nachtrust. Dit geldt voor jou, maar zeker ook voor je baby die het eerste half jaar gemiddeld zo'n 14 tot 16 uur per dag slaapt. Voor de veiligheid is het formaat van de matras belangrijk. Deze moet goed aansluiten op het bedje. Koop een stevige (nieuwe) matras die hard genoeg is zodat het hoofd van je kleintje er niet te ver in kan wegzakken. De juiste hardheid draagt bij aan een goede ontwikkeling van de wervelkolom.
Wel of geen matrasbeschermer?
Spugen of doorlekken: een babymatras wordt vroeg of laat vies. Om het matras te beschermen, zijn er speciale waterafstotende matrasbeschermers te koop. Uit onderzoek blijkt dat je baby prima zonder zo'n matrasbeschermer kan. Een matrasbeschermer die weinig of geen lucht doorlaat, is zelfs minder goed voor een baby dan een matras met alleen katoenen lakens.

Slaapzak of deken
Baby's worden het vaakst onder een lakentje met deken gelegd. Belangrijk hierbij is dat het lakentje van katoen is. De deken daarentegen kan variëren in materiaal (katoen of wol). Zolang het maar ademend is en niet te warm of te koud. Een dekentje is onmisbaar voor je kleintje, het is ook handig als plaid, speelkleed of reisdeken.
Zodra je baby beweeglijk wordt en zich gaat verplaatsen in bed, is het tijd om een slaapzak te gebruiken. Een deken is dan niet meer nodig. Een slaapzak is handig en houdt je baby warm zonder dat het kan woelen of de deken van zich af kan trappelen. Bij het aanschaffen van een slaapzak kun je het beste rekening houden met de verschillende seizoenen.